Three days ago I ran the Boston Marathon. It was such an amazing experience that I'm not sure I can sum it up in one blog post. But I'll try…
We live about two and a half hours from Boston. My parents drove up with me and I took Numbers 3, 4, and 5 along for the ride.
They have seen me run some races before, but this was my fourth marathon and none of the kids have ever seen me do one of those.
I really wanted them to have this experience.
We left on Sunday morning, and the marathon was on Monday.
When you enter a big race like this, there is an Expo the weekend of or before it.
At the Expo, you pick up your race packet and get your bib number.
In a separate room, (or in this case in two HUGE separate rooms) there are about a thousand vendors selling all sorts of stuff and it's kind of a madhouse. We ate a bunch of free protein bar samples, drank a bunch of free sports drinks, and then headed outside.
It was a gorgeous day.
The finish line of the marathon is on Boylston Street and they were putting the final touches on it. The stores all along the street were decorated with daffodils.
We all got to cross the finish line.
We practiced our victory finish for the cameras.
Then we stopped to get something to eat. I wanted to eat at a cute place on Boylston Street, but it was way too crowded, so we headed inside to the Shops At Prudential Center and ate there. The kids didn't care where they ate. The whole thing was pretty exciting for them.
Next, we checked into the hotel. We stayed at the Newton Marriott, which is about 15 minutes from the finish line.
The kids were beside themselves. They have only ever been in a hotel once before, over three years ago, and Number 3 and 5 have no recollection of that.
They got to watch cable, so they were pretty psyched.
Number 5 slept in a cot by the window. She loved it.
A lot.
My parents were in the room next to us. I went over to ask them a question. When I came back, Number 5 had made a discovery.
"MOMMY! We have our own bathrooom! This is the nicest bathroom I have ever seen!"
Wow. You forget what you take for granted. So much appreciation.
We ate dinner downstairs in the hotel. The host sat us down and Number 4 said to him, "THIS IS THE FANCIEST PLACE I HAVE EVER EATEN!!!"
He said, "I'm sorry to hear that."
Number 5 wanted to know why the napkins were fancy and folded on the table.
Again, so much appreciation. I was so glad they came.
Number 4 was pretty psyched about her drink.
And I was pretty psyched about mine.
We toasted to a great time.
My running buddy's husband was also running the marathon. They were staying in the same hotel as us with their kids, so Numbers 3, 4, and 5 had friends there to play with. They all went swimming after dinner, and then we went to bed.
The next morning was race day.
There are four waves or heats of the marathon. I was in the last wave which started at 11:15.
This would be the beginning of me moving out of my comfort zone several times on Monday.
I had to take the T from the hotel into Boston and then take a bus from Boston to the starting line in Hopkinton.
I had never been on the T before, and had no idea what the fuck I was doing. Thank god there were two policemen at the T station. They told me what to do and where to go. And then they let me on for free. That's one of the perks of being an actual runner in the marathon.
They pointed me in the right direction. And then they said, "Thank you."
What? They were thanking me for running in the race.
So awesome.
I made in onto the T. I thought the ride would be like 15 minutes long. It was over 30 minutes.
I spent the entire time freaking out that I was going to miss the bus to the start since I was already leaving later than I should have.
Since the Boston Marathon bombing, security at these big events is pretty tight. You can't bring a backpack or anything. You can check a clear bag at the start with clothes to change into at the finish line. And you can carry a smaller clear bag with the gear you will be using plus any food you want to the start with you.
I got to Boston 5 minutes before the last bus left for the start.
I didn't have time to check my bag with dry clothes for after the race, and it was already raining.
This is where it really started to become clear how amazing the people of Boston are.
The volunteers at the gate told me they'd check my bag for me and told me to hurry and get on the bus.
And then they thanked me for running.
I was the third to last person on the bus. Cutting it close, but I made it.
Once you get on that bus, it's about a 45 minute ride from Boston to Hopkinton. The length of the ride makes it pretty clear how long of a race it is.
I sat back and tried to relax.
I was sitting next to a dude who had run like a million marathons before. And this would be his 15th Boston Marathon.
There is always one of those people on the bus. The authority. The one who has done it all. Had a better experience than you and a worse experience than you.
He told the guy sitting behind me every detail of every marathon he had ever run. I just looked out the window. But I listened to what he said.
So fast forward to the start. I had planned on documenting more of the race and taking pictures along the way, but it was raining and I had to keep my phone in a plastic bag, and it was too hard for me to take in and out of the holder. So I took this picture about one minute before I started, posted it on Facebook, and then I put the phone in my armband.
The beginning of the race was really emotional for me.
I couldn't believe I was there. I thought about what had happened two years before.
The spectators were so amazing. They were so happy. And loud. And proud.
And my phone kept buzzing in my armband. Every time someone left a comment on that picture I had posted it vibrated.
With each vibration, I felt every blog reader who was cheering me on. I literally felt you.
And I just started bawling. It was really pretty incredible. I was running and crying and snorting and snotting all over myself.
So I let it all out, got my shit together, and enjoyed the race.
I remembered what the know it all on the bus had said, plus what my running buddy's husband had told me when I asked him for advice.
I took it out really conservatively because I really wanted to finish strong. The whole time, I envisioned the finish, and I pictured myself crossing it feeling good. And strong.
I thought back to the Hartford Marathon I had run last October. The weather conditions had been similar. It was raining and cold and gross.
I had gone out way too fast in the first thirteen miles, and I didn't think I was going to be able to finish. I literally thought I might die. And I did not want to have that experience in Boston.
At the time, I was pretty unhappy. But now I was thankful for Hartford. I had learned something. And it had prepared me for this race.
So I took it easy in the first half.
I won't give you a play by play of the race, but there are a couple noteworthy things to tell you.
At about the halfway point, you pass by Wellesley College and what they call the Scream Tunnel.
And there are hundreds of girls holding signs for the runners. And screaming. Hence the nickname. You can hear it from a mile away.
It was pretty impressive. I thought about trying to get my phone out to take a picture, but I couldn't feel my fingers.
But it looked like this: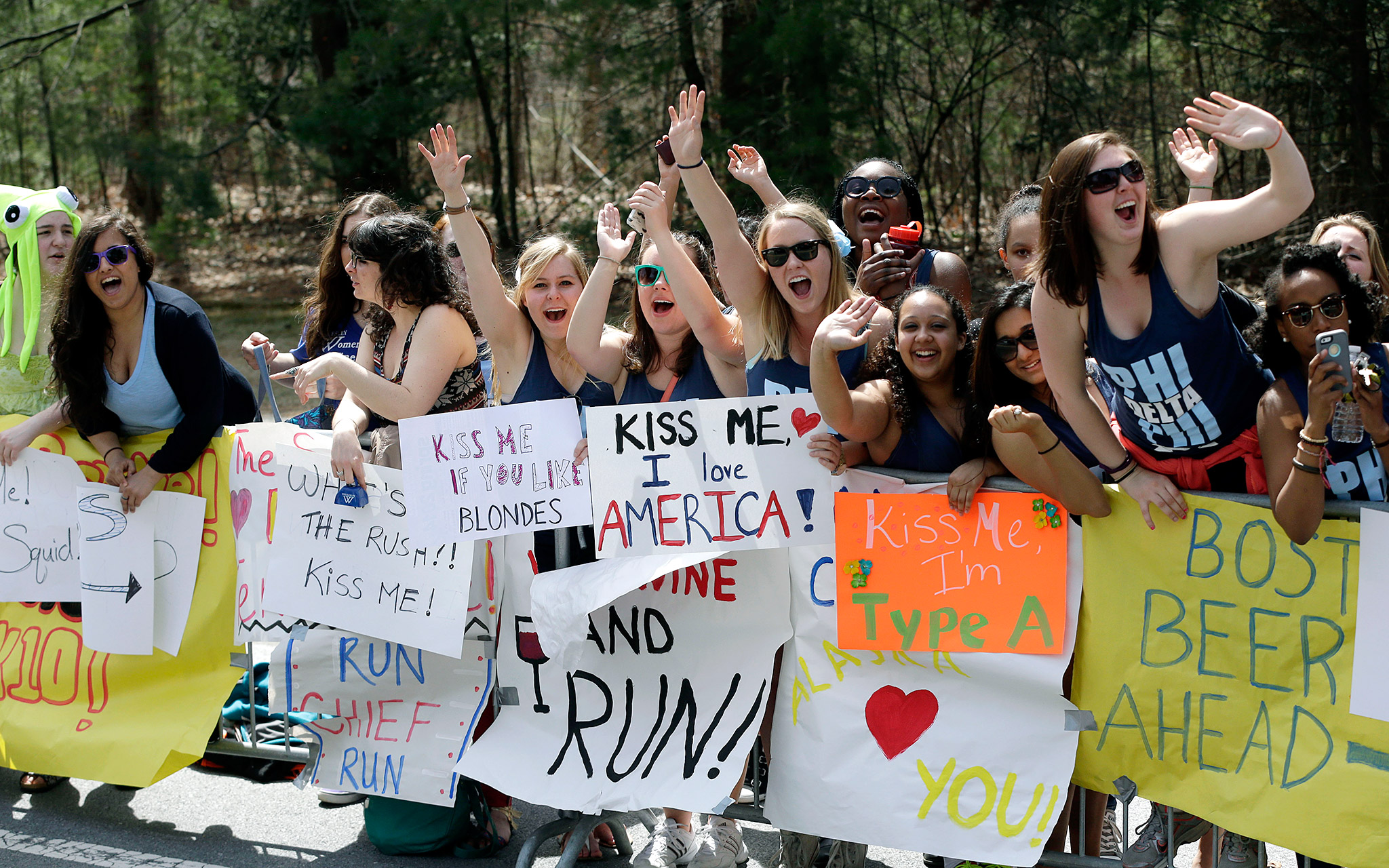 There were signs that said Kiss me! I use tongue!
Finally, some men around here!
I majored in kissing.
All I could think was, Number 4 is not allowed to see this. Ever.
My parents were at Heartbreak Hill, which is at about mile twenty.
That's all I had been thinking about. I just wanted to make it to my family and feel good. I wanted the kids to see me feeling strong.
I did.
I ran to the side of the road and gave them all a hug, and then kept going.
Number 4 ran with me on the sidewalk for about a hundred yards. It was really cute.
Around mile 22 I saw an old friend from college. He ran up ahead and took my picture. I was still feeling good and strong. And reminded again that I was not alone.
The road into Boston is full of screaming fans. I'm not sure what the name of that street actually is, but at some point, you take a right, and then a left, and you round the corner and are on Boylston Street.
The spectators are going crazy. I saw the finish line up ahead that I had crossed over the day before with my family.
And I lost it again.
I was completely overwhelmed.
I ran the first 13.1 miles in 2:27.
I ran the second 13.1 in 2:19.
My first mile was an 11:15.
My last was a 10:07.
I did exactly what I had set out to do, finishing strong, just as I had envisioned.
I made it.
I ran the Boston Marathon in the rain and the wind and the cold.
And I cried like a baby as I ran to the finish.
I really feel like I can do anything.
If I made it through that, I can make it through whatever life throws at me.
I got my foil blanket and my medal, and I met my family.
It was an incredible experience.
I did things I have never done before.
So did the kids.
They got to eat at a buffet with their friends.
And ride on a subway for the first time.
We all moved out of our comfort zones in Boston. And we are all better people for it.
The next morning, as I hobbled into the kitchen, I heard Number 3 and 4 talking.
"When I run the marathon, I don't think I'll be in the elite group, but I'll be one of the best runners," said Number 4.
I don't doubt her.
Later in the day, I got a message from Number 5's teacher:
#5 missed school yesterday (as you are fully aware)…when someone is not there we spend time discussing where they are/were and share about it. Of course you ran the Boston Marathon and brought #5 with you. I would have to. And I am glad you did. Not only did you (and have you been) teach (ing)your daughter about fitness, you taught half my class. They spent 100% of their recess time playing "marathon" and running around the entire time. So thank you for teaching your daughter about fitness and in turn teaching my whole class.
Wow.
I'm so glad I took the kids with me.
If you don't think you are modeling behavior for your children, you are wrong.
I don't expect them to want to run marathons.
But if they do, I will be right there on the sidelines cheering them on.
Actually, fuck that.
If they do run a marathon, I'm going to run it with them.
This post is sponsored by Blue Lizard Sunscreen. Don't get burned this summer! Check it out today!
Thank you for making me Number 1!
PLEASE KEEP VOTING!!!!
Click on the banner below and you have registered your vote for me!